Recent improvements in how the National Weather Service defines warning areas have resulted in significantly higher accuracy and smaller warned areas, compared to the decades-old county-wide warning method.Click here to read more about storm based warnings.
CLICK HERE TO SIGN UP FOR WEATHERCALL @HOME FOR $9.95/YR.
WeatherCall® system continuously monitors the National Weather Service's NOAA weatherwire. Using computerized mapping (GIS) the system compares a subscriber's specific location to the location of the warning area. When a severe weather warning includes your location, you will receive a phone call from WeatherCall, 24 hours a day. You can also receive the warning by email with a detailed map of the threat or by SMS text messaging.
WeatherCall has delivered over 7 million calls to people informing them of OFFICIAL National Weather Service Warnings, and our customers have learned that when they get their WeatherCall, it will get bad. They have also learned that there is a big difference between being inside a storm-based warning 'polygon' and being out. WeatherCall users frequent experiences include hearing outdoor warning sirens, NOAA weather radios, and not receiving a WeatherCall. If they don't get their WeatherCall too, they know the warning is not for their part of the county. It is a piece of mind most will never live without.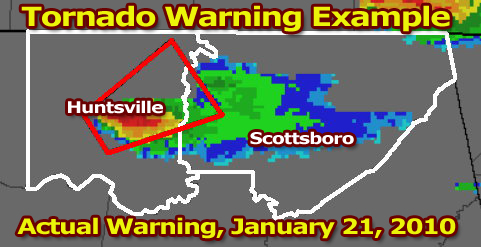 WeatherCall® for your HOME is a subscription-based service that registers your home or small business's location in our database, and constantly monitors that address for severe weather warnings issued by the National Weather Service which include this location. You may register up to 3 telephone numbers for each address, and ANY TYPE of phone can be called.
WeatherCall for your HOME costs $9.95 dollars per year per address. When you register, the system attempts to assign a precise latitude and longitude value to your location. If you enter a street address the system recognizes, your service BEGINS IMMEDIATELY. If there is a problem determining your location (for instance, a new housing development), there are easy steps to follow for you to locate yourself in the system.
WeatherCall for your HOME is the ONLY service of its type which VERIFIES that a user's location is correct and precise. Because it is so accurate, any error in the map location process can mean the difference in receiving a warning notification or not.
WeatherCall for your HOME is the ONLY service which calls your phone(s) AS MANY TIMES AS NECESSARY as a storm moves through the area. WeatherCall will notify you multiple times if changes or adjustments to the warning are made by the National Weather Service, guaranteeing you will have the most accurate and up-to-date notifications possible.
Important things to know if you choose to subscribe to the service:
You must provide a PHYSICAL location. PO boxes, Mail Stops, Rural Routes, etc. cannot be located in the system. If you do not know your physical address, you can follow the steps provided and attempt to accurately locate yourself. You can also contact your local US Post Office or county clerk's office, email the WeatherCall Customer Care team for help This email address is being protected from spambots. You need JavaScript enabled to view it. or call 1-800-260-6695 and leave a message with your phone number and best time to reach you. A Customer Care representative will return your call within 24 hours during regular business days to assist you.
If your mailing address is different from your physical address, please provide it in the space provided on the registration page.
For each physical location, you may register up to 3 telephone numbers and 3 email addresses.
Any of the 3 email addresses may be configured to receive the warning via SMS text.
All TORNADO warnings are delivered.
You may also choose to receive SEVERE THUNDERSTORM warnings and how they are delivered (phone call, SMS text or email).
FLASH FLOOD warnings can also be delivered via email and SMS text messaging only.
When you register, send yourself a test call and STORE the incoming number on your phones, naming it WeatherCall so your caller ID will display a storm warning call.
Do you want more information?
To register, you are acknowledging that you accept the terms of the Subscriber Agreement